Hair
The Cowsills
1618359209
One
John Farnham
1618359038
Where Do You Go To My Lovely
Peter Sarstedt
1618358779
Make Your Own Kind of Music
Cass Elliot
1618358636
Sweets for My Sweet
The Searchers
1618358459
The Young Ones
Cliff Richard
1618358303
Hangin Five
The Delltones
1618358131
Swinging Blue Jeans
Hippy Hippy Shake
1618358051
The Night Has a Thousand Eyes
Bobby Vee
1618357886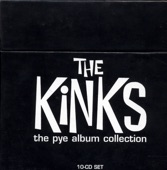 You Really Got Me
The Kinks
1618357781
Se mer
Totally Radio 60s direkte
Just for Hits & Giggles
Totally Radio 60's is a Australian digital radio station owned and operated by Totally Media. Best known for musical genres such as 60s and oldies.
Kategorier:&nbsp
Classic Hits, 60s, Oldies
Frekvenser Totally Radio 60s
Adelaide: Online
Brisbane: Online
Canberra: Online
Darwin: Online
Gold Coast: Online
Hobart: Online
Melbourne: Online
Perth: Online
Sydney: Online
Se mer
Topp Sanger
Siste 7 dager:
1. Frankie Valli & The Four Seasons - Let's Hang On
2. The Beach Boys - Surfin' USA
3. Beaky, Mick, Tich, Dave Dee & Dozy - Legend of Xanadu
4. Nancy Sinatra - These Boots Are Made for Walkin'
5. The Byrds - All I Really Want to Do
6. Ray Brown & The Whispers - Pride
7. Johnny O'Keefe - Move Baby Move
8. The Searchers - Needles & Pins
9. Chris Montez - Let's Dance
10. The Yardbirds - For Your Love
Siste 30 dager:
1. Elvis Presley - Are You Lonesome Tonight?
2. Richard Harris - MacArthur Park
3. Chris Montez - Let's Dance
4. Frankie Valli & The Four Seasons - Sherry
5. Nancy Sinatra - These Boots Are Made for Walkin'
6. The Byrds - All I Really Want to Do
7. Ray Brown & The Whispers - Pride
8. Johnny O'Keefe - Move Baby Move
9. The Yardbirds - For Your Love
10. Heather Small & Tom Jones - What's New, Pussycat (Live)
Kontakt
Sosiale nettverk
Del på
Kommentarer